High-Quality Digital Twins
In 60 seconds. From a selfie. For everyone.
Gaming • Metaverse • Retail • AR/VR
Mobile • Website • Events • Headset
Life-Like Digital Humans.
At Speed & Scale.
Our B2B Platform as a Service (PaaS) provides businesses, developers, and content creators with everything needed to generate incredibly life-like digital humans in their experiences.
​
The platform creates both user-generated characters and NPCs, as either full-body or head-only characters, at scale and at runtime in games, websites, AR/VR experiences, apps and more.
​
Incredibe digital humans that fit your workflow. Unity, Unreal, webGL, Oculus, iOS, Android? Of course. Didimo was designed to work on any platform or game engine, with support for standard industry tools like Mixamo, Daz3D, Amazon Polly, ARKit, Azure Cognitive Services & more.
Easily Make Twins of Your Users
Fast. From a Selfie. Scalable.
Didimo means "twin" in greek. You can explore a didimo below to find out what makes it so special.
Didimos easily relight to any

environment.
Unity URP Render
Light Option 1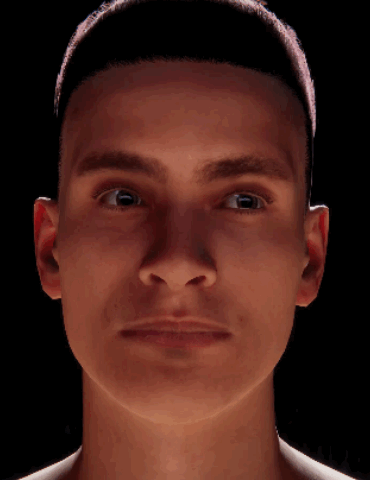 Unity HDRP Render
Light Option 2
Didimos can be rendered in any major platform.
Didimos are easy to adapt & to add accessories.
Examples using Daz3D and external libraries
Didimo Generation Pipeline
From hundreds of hours to about 60 seconds, streamlined production
of human digital twins at scale.
The Didimo Generation Pipeline
Our modular pipeline consolidates many different & intensive steps into a single process to deliver digital humans to your specifications. In addition, this modular design allows Didimo to support individual customer requirements via 'Adaptors'—customer-specific unique steps in the pipeline that ensure the output matches a specific customer need.
All stages, integrated into one step.
Provide a single front facing image, selfie or depth scan of a user
Our technology creates a 3D mesh based on the user facial morphology
Our pipeline automatically creates a sophisticated rigging system
Our rig allows manipulation of all face regions, enabling expressions & speech
Our pipeline delivers a high-fidelity 3D model, ready to be used at runtime